The self-titled album "Jinksie" by the band Jinksie is a musical odyssey that takes listeners on a genre-bending journey through a rich tapestry of soundscapes. This album, released at the intersection of indie rock and experimental pop, proves to be a breath of fresh air in a music landscape often saturated with predictability.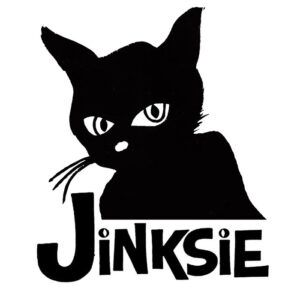 Sonic Exploration:
"Jinksie" opens with an atmospheric overture, setting the tone for the album's exploration of sonic boundaries. From there, it never looks back. The band fearlessly delves into a wide array of musical styles, seamlessly blending elements of indie rock, dream pop, electronic, and even a touch of folk. This genre-bending approach gives each track a distinct personality, making the album a dynamic and ever-surprising listening experience.
Lyrical Depth:
One of the standout features of "Jinksie" is its lyrical depth. The band's songwriting delves into themes of introspection, identity, and the human condition, often with a poetic and philosophical touch. Tracks like "Slide" and "Runt Song" showcase the band's ability to craft emotionally resonant narratives that connect with the listener on a personal level.
Instrumentation and Production:
The album's instrumental arrangements are a testament to the band's musicianship. From lush, reverb-soaked dreamscapes to gritty guitar-driven anthems, "Jinksie" covers a wide sonic spectrum. The production values are top-notch, allowing each instrument to shine while maintaining a cohesive sonic identity throughout the album.
Standout Tracks:
"Slide" is an exhilarating musical journey that seamlessly blends indie rock and blues elements. The song's infectious melodies and catchy hooks draw listeners in, creating an irresistible sonic experience. With its dynamic instrumentation and emotive vocals, "Slide" is a must-listen track that showcases Jinksie's talent for crafting memorable and genre-defying music
"Runt Song" is a raw and emotionally charged track that delves deep into the complexities of human relationships. The echoing vocals and haunting instrumentals create a haunting poppy atmosphere that lingers long after the song ends, making it a beautiful addition to Jinksie's discography.
Conclusion:
"Jinksie" by Jinksie is an album that defies categorization, offering a rich and diverse musical experience that keeps the listener engaged from start to finish. With its genre-blurring approach, poetic lyricism, and exceptional musicianship, Jinksie has crafted an album that not only stands as a musical achievement but also as a testament to the power of artistic exploration. "Jinksie" is a must-listen for anyone seeking fresh and innovative sounds in today's music landscape.